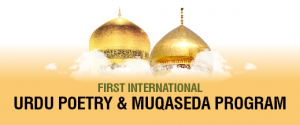 The External Tableegh Department of The World Federation of Khoja Shia Ithna Ashari Muslim Communities is delighted to announce its first ever, International Urdu Poetry and Muqaseda Program to celebrate the birth anniversaries of the 8th Star of Imamat and Wilayat, Imam Ali al-Redha (as) and his beloved Sister Kareema of AhlulBayt, Sayyida Fatimah al-Ma'sumah (sa).
We call upon all the devotees of the AhlulBayt (as) from around the world regardless of their faith to participate in this big event which will be conducted online live on our YouTube Channel @WorldFederationKSIMC, with the participation of some renowned personalities as our special invitees.
The topic for the poems is based on the special new "Missra" pattern (rhythmic line) related to the occasion and all respected participants are invited to write their poetries based on the same lines مصرع طرح to subscribe their names among the Shu'araa of AhlulBayt (as)!

1. Selected poems that followed the Missra will be shortlisted and out of them, five poems will be chosen through raffles (قرعه اندازى) at the end of the online Jashn program.
2. The 5 Lucky participants will be gifted with the extraordinary opportunity to go for the Ziyarat of Imam al-Redha (as) and Sayyida Fatima al-Ma'sumah (sa). Air Tickets from their respective countries and also fully paid ground package (One week accommodation, transport and food) are included.
3. All poem entries will be compiled in an e-book, which will be made available to the public free of cost. The hard copy of the poetry book will also be sent as a gift for all the participants who submit their poem. The gift book can be collected by the participants from the offices of our regional federations.

1. The online Jashn and celebration event will take place on Saturday, 03rd July 2021 at 4:30 PM BST UK time (8:30 PM in Pakistan and 9:00 PM in India) and broadcasted live through The World Federation YouTube Channel.
2. The language for this program is URDU.
3. The program is open for all, regardless of their religion, gender or age.
4. All entries will have to follow the theme and the given Missra pattern.
The esteemed Shu'araa can send their entries via WhatsApp on the following number: +44 7396 607624 OR email: [email protected].
Important note:
All participants are kindly requested to submit the following details with the poetry:
Full name, age
Country
Contact number
Postal Address
Last date for submitting the entries is Sunday 27th June 2021.
For any queries or information, please write to us at [email protected].
In Urdu:
Download URDU Poster as PDF | Download Announcement in URDU
In English:
Download English Poster as PDF