In the Name of Allah, The Most Beneficent, The Most Merciful
Inna lillah Wa Inna Ilayhi Rajiun
 كُلُّ نَفْسٍ ذَائِقَةُ الْمَوْتِ ۖ ثُمَّ إِلَيْنَا تُرْجَعُونَ
Every soul shall taste death [then swallow & digest it, on the journey based on Divine Wisdom & Justice toward eternity]. Then you all shall be brought back [exclusively] to Us.
(Suratul 'Ankabut – verse 57)
:عَنْ أَبِي عَبْدِ اللَّهِ )ع(، قَالَ
إِذَا مَاتَ الْمُؤْمِنُ الْفَقِيهُ ثُلِمَ فِي الْإِسْلَامِ ثُلْمَةٌ لَا يَسُدُّهَا شَيْ‏ء لِأَنَّ الْمُؤْمِنِينَ الْفُقَهَاءَ حُصُونُ الْإِسْلَامِ كَحِصْنِ سُورِ الْمَدِينَةِ لَهَا
It is narrated from Imam al-Sadiq (a) that he said: "When a believing jurist dies, a void [on a scale as wide as that Jurist's degree of impact on the believers] is left in [the practice of and defensive fortification of] Islam that can never be filled again [except by equal or better jurists] – because as Imam al-Kadhim (a) explains, believing jurists are the fortifications of Islam, like the fortified towers embedded in the walls of a city are for that city. (Al-Kaafi, v.1, pg.48, narration 2 and 3).
It is with utmost sadness and grief that The World Federation of KSIMC has received news of the demise of Grand Ayatullah Sayyed Muhammad Sa'eed Tabatabaie al-Hakim in Najaf al-Ashraf after a sudden heart-attack.
On this heart-breaking occasion, The World Federation and the entire global Khoja Shia Ithna Asheri Community extend our deepest condolences to the Imam of our time, Imam al-Mahdi (May Allah SWT hasten his reappearance) on the loss of one of his general representatives [Naaib 'aam], our Maraje, especially His Eminence Grand Ayatullah Sayyed Sistani (d), the Hawza 'Ilmiyyah of Najaf al-Ashraf, the Islamic nation as a whole, and the family of Grand Ayatullah al-Hakim (r) especially.
Grand Ayatullah Sayyed Muhammad Sa'eed al-Hakim was born on the 8th of Dhil-Qa'da 1354 AH, in Najaf al-Ashraf. He started his Hawza studies at an early age, when his father Ayatullah Sayyed Muhammad Ali al Tabatabaie al-Hakim found him to have exceptional intelligence and a thirst to learn Islamic sciences. Amongst his teachers were his father, maternal grandfather Grand Ayatullah Sayyed Muhsin al-Hakim, Shaikh Husain Hilli the teacher of Mujtahids and Maraje – including Sayyed Sistani) & finally Grand Ayatullah Sayyed Abul-Qasim al-Khui (May Allah SWT have mercy on them).
After quickly progressing in his studies, Grand Ayatullah al-Hakim started to teach intermediate Sutuh studies, which continued for several full courses. In 1388 AH (1966), at the young age of 34, he started to teach the highest level of Hawza studies, known as Bahth Kharij until 1411 AH, despite the harsh security conditions imposed by the dictatorial Ba'athist regime.
Like the Imams of Ahlul Bayt (a) he resisted oppression and from the 9th of May 1983 till 7th June 1991, Grand Ayatullah al-Hakim spent the most difficult of times of his blessed life, in the Ba'athist prisons, along with many members of his family, many of whom were brutally executed, when the persecution of the Hawza of Najaf and its scholars was at its peak. However, even in prison, like Nabi Yusuf (a), he propagated the faith in filling the thirst of his fellow prisoners and students with his deep knowledge. In fact, he even trained his son and co-prisoner, Sayyid Riyadh al-Hakeem to become a mujtahid.
After his release, and upon the insistence of the scholars of the Hawza and the mumineen, his Eminence announced his Marjaiyyah and released his book on practical laws of Islam, titled "Minhaaj ul Saliheen", in three volumes.
His other scientific works include:
"Al-Muhkam fi Usul al-Fiqh", a detailed full course in the principles of jurisprudence in six volumes;
"Fi Rihaab al Aqeeda", a detailed dialogue with a Jordanian personality in the issues of beliefs, in 3 volumes;
"Religious Laws of Using Computers and the Internet";
A defense of the great institution of Marja'iyyat;
"Understanding Karbala", and a book on the history of the tragedy of Karbala, translated into English.
He was also concerned about Muslims in the West, especially the Iraqi diaspora and wrote several books addressing them and the practical challenges of practising Islam in non-Muslim societies.
Late Sayyed al-Hakim's activities also included taking care of the welfare of the needy people in Iraq, reconstruction of various religious sites including Masjid al-Sahla, supporting tabligh activities in many parts of the world including Syria, Afghanistan and Pakistan, and voicing his solidarity with the oppressed peoples of Palestine, the followers of Ahlul Bayt (a) in Afghanistan who are persecuted by the Taliban and Shias of Pakistan who are frequently attacked by extremist Salafists.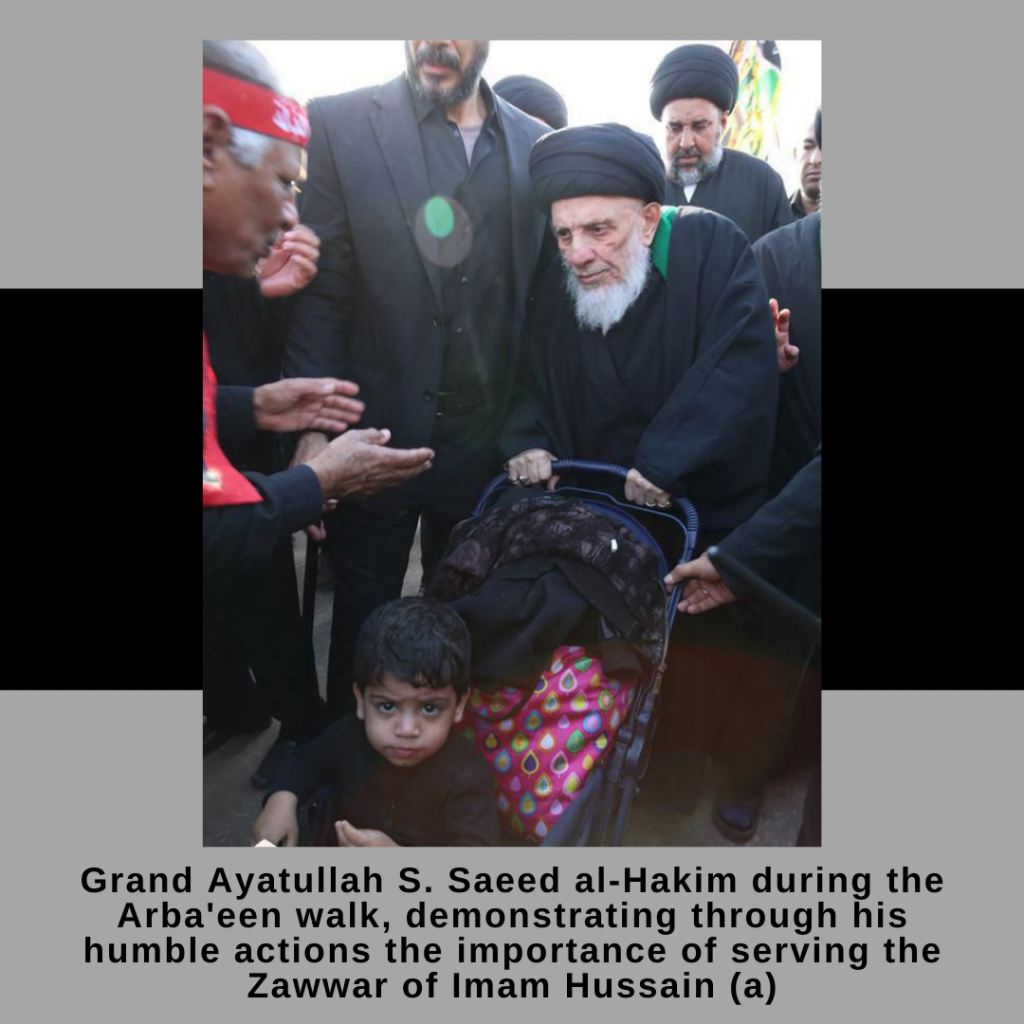 One of the central messages of His Eminence was the importance of following and showing love towards Ahlul Bayt (a) in one's daily life, especially by taking part in the Arba'een procession, which he himself, despite of his old age and disability used to attend, serving the Zawwar.

At this sad occasion, we pray for Allah SWT to elevate his status, and grant him the proximity of our Holy Prophet Muhammad (saw) and his progeny (pbut), in the lofty degree of the scholars who practice what they teach and sincerely defend the holy teachings.

We request mu'mineen to remember late Grand Ayatullah al-Hakim and all our marhumeen by reciting Suratul Fateha and salawat on the Prophet (saw) and his progeny (pbut).

The World Federation of KSIMC

26th Muharram 1443 / 4th September 2021