"Seeking knowledge is an obligation on every Muslim. Indeed how Allah loves those who strive in their quest for knowledge.
The Prophet (saw) (Al- Kafi)"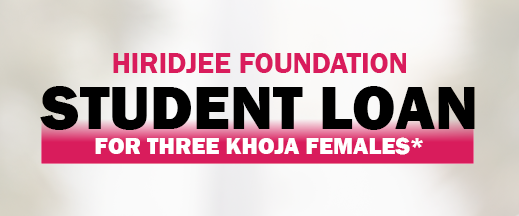 The World Federation and Hiridjee Foundation are eager to empower Khoja girls by offering three female students the chance to study further within their chosen field. The aim is to provide Khoja female students from our community, who cannot afford the cost of tuition fees, an opportunity to pursue their higher education goals in an undergraduate course.
We understand to improve our quality of life we must focus on Higher Education. Therefore we strongly believe by focusing on Khoja female educational growth and by creating a generation of skilled Khoja female individuals who are keen on learning yet don't have the financial assistance to help them with their tuition fees. Therefore, we must come together and meet their needs, support our own, which we know will have a lasting positive effect in their life as well as our communities for years to come.
We are excited to announce The Hiridjee Foundation Student Loan which will cover tuition fees only, will be available for three female Khoja students in our Khoja community who are wishing to pursue higher education in undergraduate studies only, for the year 2021!
The loan is available for a maximum of GBP 12,500 per student per academic year, for up to three consecutive years. The loan will only cover tuition expenses and will be paid directly to the university.
Supporting Female Students Since 2008
The Hiridjee Foundation Student Loan has been helping Khoja female students from our community to pursue their studies further since 2008. There have been a wide variety of applicants from all over the world. The loan has been awarded to Khoja female students who needed assistance with their tuition fees when studying subjects such as Law, Mathematics, Dental Surgery, Psychology, Optometry, Economics, Neuroscience and many more. The successful applicants have proceeded to study their preferred courses at many of the highest rated universities around the world, including Queen Mary University, Birmingham University, La Trobe University and Cedar Crest College to name a few.
We are offering this is a once in a lifetime opportunity, aimed at just three Khoja females who have a desire to study but have some financial constraints preventing them from covering their tuition fees. The World Federation and the Hiridjee Foundation are incredibly passionate about encouraging the female members of the Khoja community to further their education in an undergraduate course and kick-start their careers and this loan is a great first step towards this.
The World Federation of KSIMC would like to take this opportunity to thank The Hiridjee Foundation for their generosity in providing loans for Khoja girls to pursue their higher education in undergraduate studies and achieve their lifelong dreams. We pray that Allah (swt) continues to shower the family with blessings and grant them infinite rewards for their continued support towards the field of Higher Education. Ameen.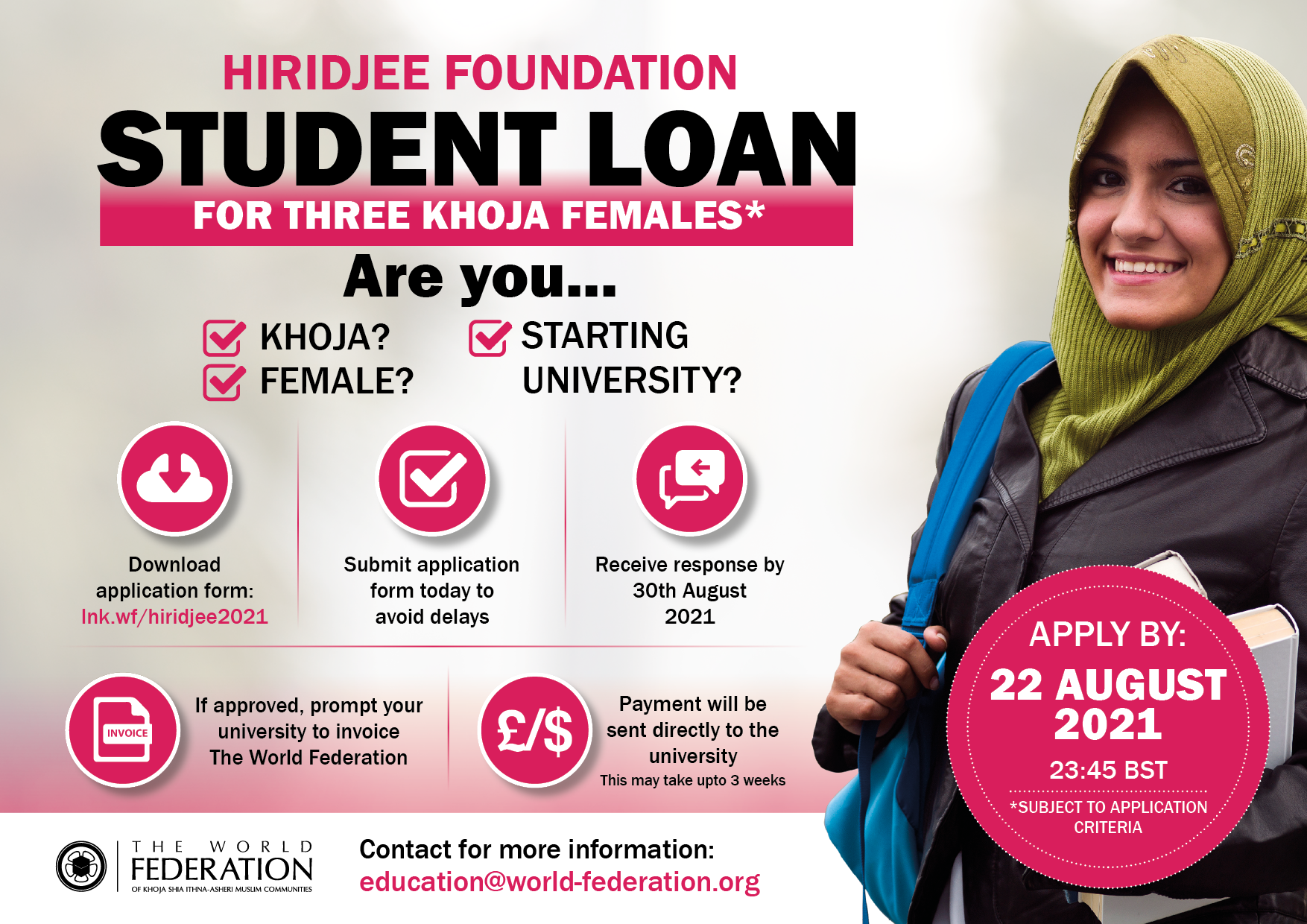 The applicant must be:
Female Khoja Student.
Wanting to pursue Undergraduate studies only course beginning in 2021. (intake for Sep-21 and Jan-22)
Aware the loan will only cover tuition fees which will be paid directly to the university.
What does the application not cover:
Any other course which is not an undergraduate course.
Male students.
Expense for other items such as accommodation, living expense etc.
The Hiridjee Foundation Student Loan is an annual education loan scheme. The maximum loan amount per student per academic year is GBP 12,500. The loan is awarded for a maximum of 3 consecutive years.
Applicants must submit their application form as soon as possible (see below for the application process).
The applications are then vetted and three applicants are selected. You will receive a response by 30th August 2021.
If approved, please prompt your university to send The World Federation an invoice.
The Payment award will be paid directly to the university (This may take up to three weeks).
The awarded amount will be paid to the university directly only for up to three years.

You can apply for this loan by downloading and completing the Word format of the loan application form by clicking here.
All hard copies of the loan application form should be completed and returned to The World Federation of KSIMC by 22nd of August 2021. We understand this can be difficult during uncertain times of Covid-19, however we would still request hard copies to be sent to us. If this can not be achieved please email us and let us know at the email address listed below.
Khoja Female students interested in this loan are requested to apply with their conditional offer in the first instance and submit the unconditional offer after the final results have been published.
All applicants are requested to type the application form for clarity and only print it once the full form has been typed, to acquire signatures from respective parties endorsing the fully completed loan application.

For any further queries, please contact us at [email protected]
If you are interested in also donating to similar education projects like these please click here. Your donation will make a difference in a student's education.