During Muharram and Safar, as we turn with our grieving hearts to the scorching plains of Karbala and remember Imam Husayn (a) as he painfully called:

"Is there anyone to help us?",

And to our beloved 12th Imam (May Allah SWT hasten his reappearance) as he asks us today:

"Is there anyone to help me so that I may reappear to seek justice for my oppressed grandfather?",

We cry out with tearing eyes and burning love:
"LABBAYKA YA HUSAYN! LABBAYKA YA MAHDI!"
Join us during these days of mourning as we seek enlightenment from exalted teachers of the Hawza, Sayyed Munir al-Khabbaz, Shaykh 'Ali Korani and Shaykh Kadhim Yasin (May Allah (SWT) prolong their ages and grant them tawfiq), whose deep discussions will involve responding to current-day doubts about our faith; the exceptional rank given to the Master of martyrs by Allah (SWT), and historical details about the uprising of Imam Husayn (a) not heard of before, in The World Federation Islamic Education Department's new 1443 AH Muharram & Safar series titled:
"LABBAYK"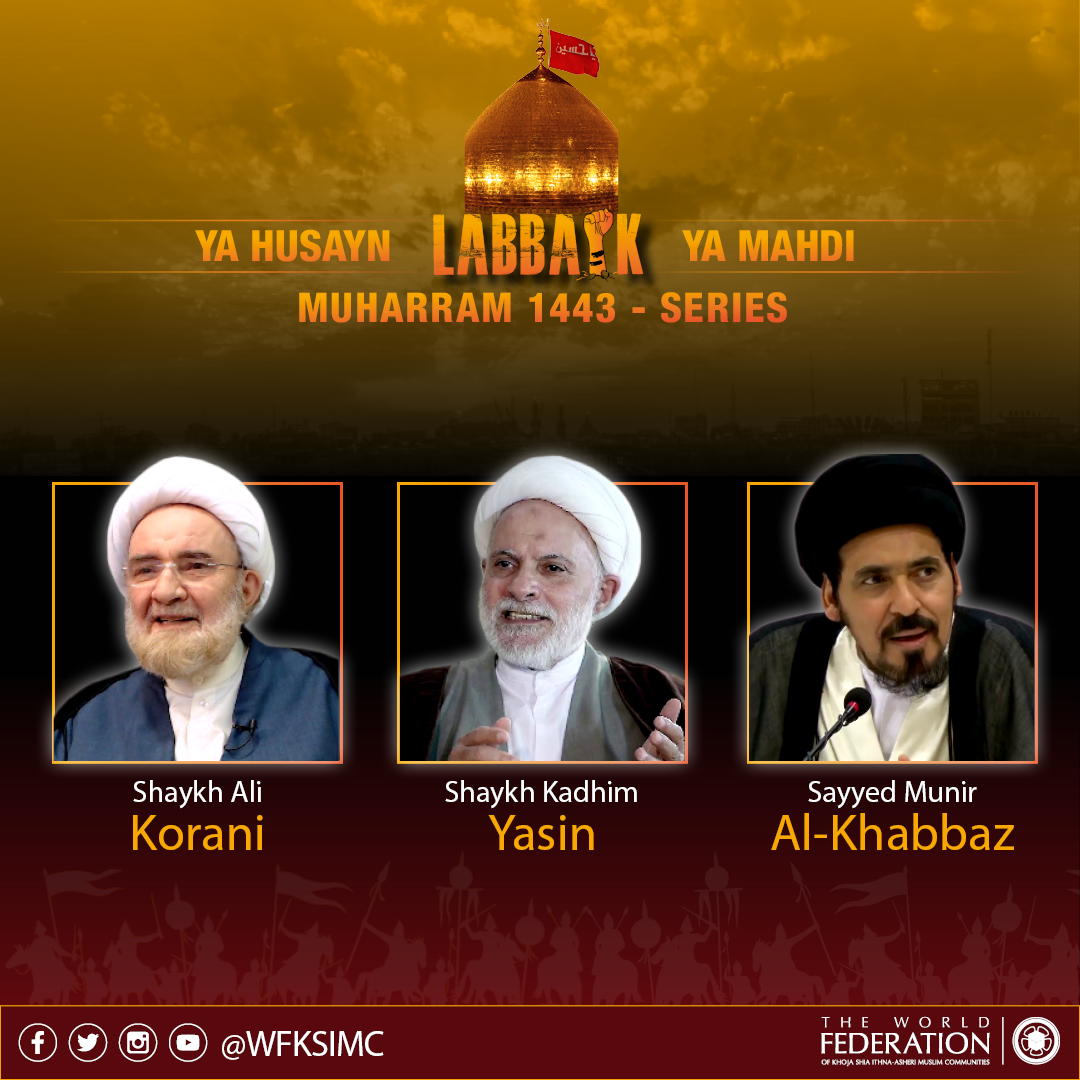 Below is a brief bio on the speakers.

Shaykh Ali Korani was born in a well-known religious family in the south of Lebanon in the year 1944.
He began his Hawza studies at a young age in Jabal 'Amil, in the south of Lebanon. He later moved to Najaf to further his Hawza studies.
He attended Dars Kharij under Ayatullah Khui, and then under Ayatullah Shaheed Muhammad Baqir Sadr, of whom he was a remarkably close student.
He was appointed as Sayyid Mohsin al Hakim's general representative in in Kuwait in 1967. After the passing of Sayyid Mohsin al Hakim in 1970, he was then appointed as Ayatullah Khui's representative in Kuwait, where he continued to live until 1974. In 1974 he returned to Beirut, where he furthered his research and tableegh activities.
After the Islamic revolution, he moved to Iran, where he started to teach at the Hawza in Qom, and has since authored many books on diverse topics, such as the Holy Qur'an, Arabic semantics, Islamic history, hadith and mahdawiyyah. Shaykh has also been very active in the field of teaching and lecturing, and even today continues to teach a very advanced level of theology and hadith at the Hawza. Shaykh Korani regularly appears on TV programs and works in producing software programs for Islamic studies under the guidance of scholars such as the late Ayatullah Gulpaygani (q) and Ayatullah Sistani (d).
He is currently preoccupied with research, teaching, authoring books, as well as tableegh activities on television and social media.

Shaykh Kadhim Yasin is an Islamic scholar, author and teacher from Jabal Amil, Lebanon. Born in the town of al-'Abbasiyya in 1950, he is the son of Shaykh Khalil Ibrahim Yasin al-'Amily.
He pursued his academic studies in Beirut, and then started to learn Islamic sciences, with his father being his first teacher. In 1980, he travelled to Qum, and continued his intermediate sutuh studies under high-ranking scholars such as Sayyid Ahmad al-Madadi, Sayyid Hussein al-Shahrudi and Sayyid Muhammad Ridha al-Jalali. After that, he attended advanced bahth kharij lessons under the likes of Marhum Sayyid Mahmud al-Hashimi, whilst also specializing in Islamic history.
After returning to Lebanon, Shaykh Yasin began to teach in its Hawzas and various Islamic institutes. He has since also visited many countries including the UK for tableegh and lectures. In addition, through his research, Shaykh has managed to evolve an innovative methodology for studying Islamic history, in which he presents a unique analysis that is based on applying modern day geo-socio-political theories. This methodology is reflected in his books and works, which include thirteen printed titles and others still in the pipeline.
His published works include "History of the Seal of Prophets (s)", in two volumes; "Biographies of the Two Grandsons [of the Prophet  (s)]", in two volumes; "Methodology of Historical Research" and "Relations of Maronite Christians with Their Neighbours: From the Islamic Conquest till the Lebanese Civil War".

Sayyed Munir bin 'Adnan al-Khabbaz from Qatif in modern day Saudi Arabia, is a scholar who has reached the lofty rank of Ijtihad. Also a thinker, poet, experienced orator and author, his lineage goes back to Imam 'Ali bin abi Talib (a).
He began his Hawza studies in Najaf in 1978, at the tender age of 14. Later on, he attended the classes and Bah-th Kharij lessons of the likes of Sayyid Al-Khui and Sayyid al-Sistani. After that he moved to Qum, and continued his studies under Sh Mirza al-Tabrizi, Shaykh Wahid al-Khurasaani, and other Maraje, attaining the status of Ijtihad.
Under the instructions of his teachers, especially late Sh al-Tabrizi, Sayyed al-Khabbaz started teaching Bahth Kharij, whereby his research and content have been distinguished with his efforts to re-establish and expand many theoretical principles. His classes in Qum are one of the best and most scientific Arabic bahth kharij lessons.
Some of his books include a commentary on "Dua al-Iftitah", "Religion Between Scientific Data and Atheistic Criticisms", and "The Mahdawi Reality".
The presence of a grand scholar of his calibre in the modern-day hawza is in itself a blessing, although Sayyed Al-Khabbaz has gone a step further to spread this blessing widely, so that more people would benefit from his knowledge and guidance, including the wider Muslim and non-Muslim communities in different parts of the world. He has achieved this by being a seasoned muballigh and orator, who has visited and lectured in various centres and scientific institutions in London, Denmark, USA, Sweden, Norway and Germany, engaging with both the general public and scholars alike.